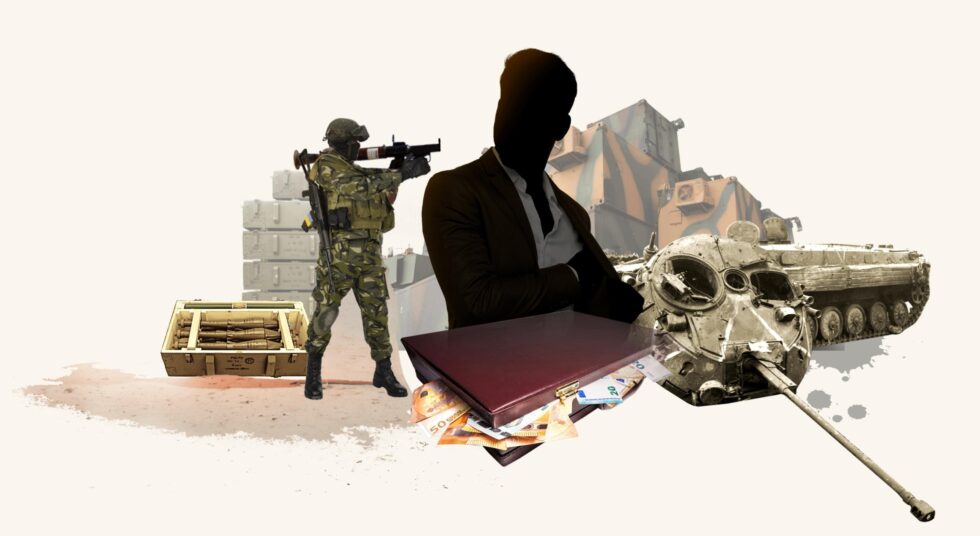 How an Estonian arms broker pocketed millions at Ukraine's expense
As soon as Russia invaded Ukraine last February, the demand from Kyiv for weaponry skyrocketed. Prices rose sharply and supply chains became increasingly complex as European brokers and middlemen emerged seeking to make quick profits.
Stockpiles in Europe were quickly depleted and weapons and ammunition are now being sourced from as far afield as Kuwait, Kenya, Sudan and the Philippines. "It's a fucking chaos," said one of the brokers who spoke to us for this story.
While some European companies have grasped the opportunity to make excessive profits from the increased demand for arms amidst the chaos of war, the unprecedented high prices and lengthy delivery timeframes are a frustration for the Ukrainian army attempting to repel Russian forces on the battlefield.
High prices for arms also create political tensions in Europe, where EU member states providing military aid to Ukraine are currently only being reimbursed 50% of their costs by the European Peace Facility (EPF) because current prices outstrip the available budgets. Poland, which is responsible for more than half of Europe's military aid to Ukraine, feels particularly affected.
METHODS
Lighthouse Reports obtained detailed documents about a €6.8 million deal for rocket-propelled grenades (RPG) that took place in March last year.
Financial documents provided unprecedented insight into the mechanics of an arms deal. The money trail led from the Czech Republic, to Estonia, to the Netherlands, as the arms were procured and delivered to Ukraine via Poland.
The documents suggest that the Estonian broker central to the trade retained €2 million, or just under 30% of the deal's value as an apparent commission. Sources familiar with the industry say such a commission amounts to outrageous profiteering, even under the unique circumstances of the time.
We were able to corroborate the information in these documents with publicly available trade data from ImportGenius and national import-export databases of strategic goods.
During the months-long investigation we also approached dozens of brokers to understand the dynamics of supplying the Ukrainian army in wartime. Many were not willing to talk, citing the risk of being targeted with reprisals by Russian agents active in Europe.
However, eight brokers shared their experiences with us and answered questions on condition of anonymity. These brokers allowed us to set the Estonian- and Dutch-brokered RPG deal in the wider perspective and to confirm the 30% commission it generated for the Estonian firm was "unrealistic" by industry standards.
We also spoke to a dozen experts, company personnel and politicians to figure out the structure of the deal and other rationales behind it, such as disguising the origins of the arms and some of the parties involved.
STORYLINES
While Russian troops were murdering civilians in Bucha, the Ukrainian army was threatened by an ammunition crisis and Estonians were donating money generously to Ukraine. Yet while this was going on, as our Estonian partner Eesti Ekspress points out, an Estonian arms broker was pocketing a commission worth almost one-third of a shipment of anti-tank weaponry meant for the Ukrainian army.
The Kyiv Independent's report also highlights the urgent timing of this particular arms deal: "In one backyard in Bucha, Russian soldiers slaughter three – an elderly couple and a young woman. In Mariupol, Russian fighter jets drop bombs on the drama theatre, killing between 100 and 600 people sheltering there. On the very same day, Dutch broker Applied Research Laboratory Europe (ARLE) B.V. billed the Estonian company Bristol Trust OÜ [for the RPGs], according to the documents seen by [Estonian publication] Ekspress."
This is not just a story about excessive profiteering by European arms brokers, writes the Kyiv Independent, it has a direct and negative impact on the Ukrainian war effort: "The increased prices affected Ukraine's allies' spending power. The higher the prices are, the fewer weapons Ukraine ends up receiving to defend itself."
The story breaks at a moment when the Ukrainian government is making headlines for launching a crackdown on officials accused of profiteering from wartime procurement of military materials and civilian aid.
---
To keep up to date with Lighthouse investigations sign up for our monthly newsletter
The Impact
Our investigations don't end when we publish a story with media partners. Reaching big public audiences is an important step but these investigations have an after life which we both track and take part in. Our work can lead to swift results from court cases to resignations, it can also have a slow-burn impact from public campaigns to political debates or community actions. Where appropriate we want to be part of the conversations that investigative journalism contributes to and to make a difference on the topics we cover. Check back here in the coming months for an update on how this work is having an impact.