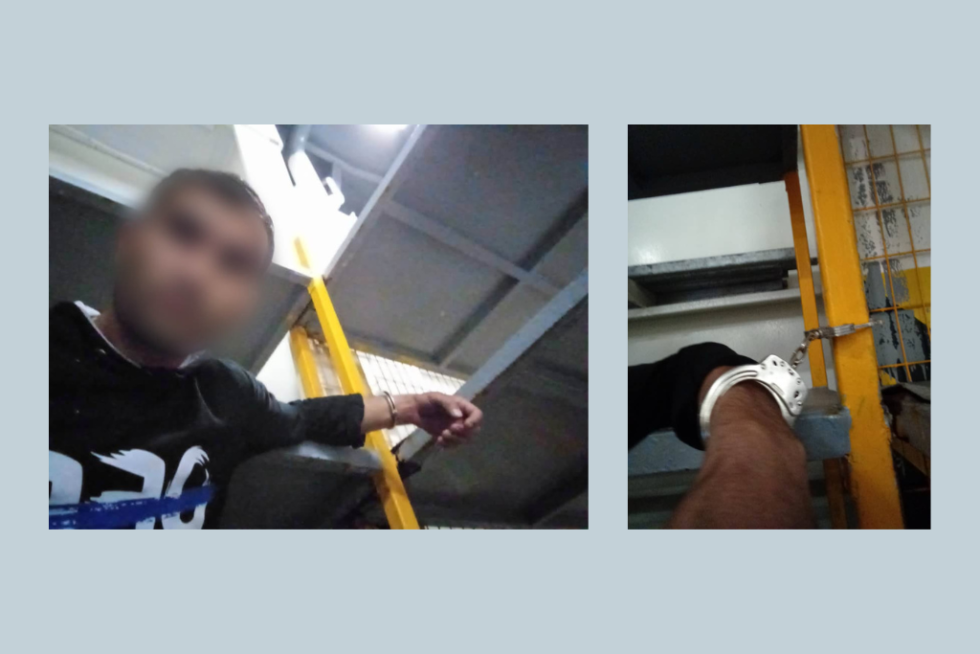 Asylum seekers held in secret cells on ferries between Greece and Italy
As holidaymakers sip on cold beer and cocktails on the deck of a passenger ferry, a buzz of excitement in the air, a very different situation is playing out below deck. In the bowels of this vessel there are people, including children, chained and locked up in dark places against their will.
This is Europe's lesser known pushback practice, where secret prisons on private ships are used to illegally return asylum seekers back to where they came from.
The systematic denial of the right to seek asylum at the EU's land borders has been well-documented in recent years. Last year, Lighthouse Reports and partners revealed the existence of "black sites" – clandestine places of detention – where refugees and migrants are denied the right to seek asylum and illegally imprisoned prior to being forced back.
What has received less attention is the unlawful denial of the opportunity to claim asylum at borders within the EU, and the brutal pushbacks that take place between member states – namely from Italy to Greece – at sea.
We've found that asylum seekers, including children, are being detained in unofficial jails – in the form of metal boxes and dark rooms – for sometimes more than a day at a time in the bowels of passenger ships headed from Italy to Greece, as part of illegal pushbacks by the Italian authorities.
In 2014, the European Court of Human Rights ruled that Italy had unlawfully returned asylum seekers to Greece in this way, denying them the opportunity to lodge a claim for protection. Eight years on, despite the Italian authorities having repeatedly claimed this practice has stopped, we've found that it continues in full force.
METHODS
Lighthouse Reports, in collaboration with SRF, ARD Monitor, Al Jazeera, Il Domani and Solomon, has obtained photographs, video footage and testimony revealing that people who risk their lives stowing away on ferries bound for the Italian Adriatic ports of Venice, Ancona, Bari and Brindisi in the hope of claiming asylum are being denied the opportunity to do so.
Instead, they are detained at the port before being locked up on the vessels they arrived on and sent back to Greece.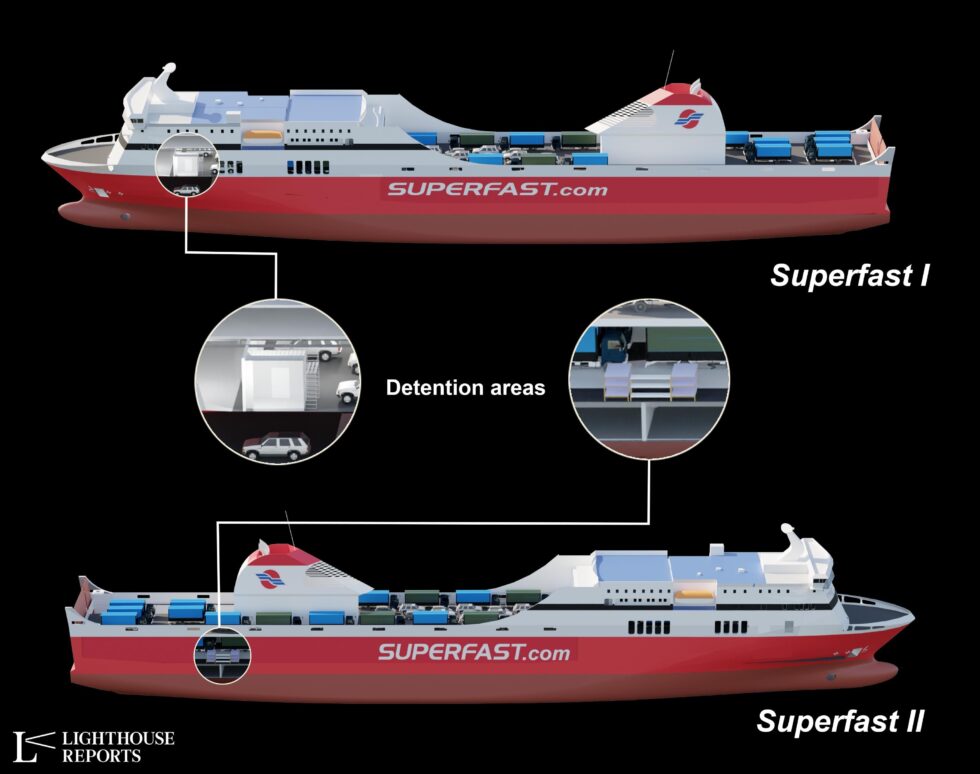 In the first visual evidence of its kind, obtained during numerous reporting trips between Italy and Greece on commercial ships owned by Greek ferry giant Attica Group, we captured images of the sites that are used to detain asylum seekers on these vessels, sometimes handcuffed to metal shelves, as they are illegally deported.
We found that on one ferry, named the Asterion II, people are locked in a former bathroom with broken showers and toilets, along with two mattresses. Names and dates of detainees are scribbled on the walls in different languages. We have visual evidence of this room, obtained with a small camera through a keyhole, which matches descriptions given by asylum seekers.
On another commercial ship, named Superfast I, people are held in a metal box with a caged roof in the garage room on one of the lower decks. It gets extremely hot here during the summer months. We visited the room and captured footage and stills. It matches the descriptions from asylum seekers. There is only a piece of cardboard on the floor. People appear to have tried to write words in the dust on the metal wall.
According to an Afghan asylum seeker who says he was held in this place: "It is a room the length of 2 metres and the width of 1.2 metres. It's a small room […] You have only a small bottle of water and no food at all […] We had to stay in that small room inside the ship and accept the difficulties."
On a third ferry, the Superfast II, asylum seekers are kept in a room where luggage is collected. One Afghan man managed to take a selfie while he was handcuffed to metal pipes. We went to the same spot and took footage, which matches the surroundings in the selfie image.
Among those detained are children. We have verified three cases where under-18s have been returned via ferry from Italy to Greece in this way. One 17-year-old Afghan named Baloosh told us: "They sent me back to Greece by boat, illegally. They didn't ask me at all about my asylum claim or anything else."
As well as testimony and visual evidence, we got confirmation from a number of crew members that these places were being used to detain asylum seekers being returned to Greece. They referred to the sites as "prisons". Legal experts and NGOs further corroborated the findings, saying they have heard large numbers of reports of these practices taking place in recent years.
STORYLINES
Under a bilateral "readmissions" agreement between the Italian and the Greek government – which has been in place since 1999 despite not having been ratified by the Italian parliament – Italy is able to return undocumented migrants who have arrived from Greece back to the country. However, this cannot be applied to those seeking asylum.
But we found that asylum seekers from Afghanistan, Syria and Iraq have been subject to this treatment in the last 12 months. Data provided by the Greek authorities shows that hundreds have been affected in the last two years, with 157 people returned from Italy to Greece in 2021, and 74 in 2022 – although experts believe that not all cases are documented.
Since the ECHR judgement in 2014, Italy has repeatedly claimed that this practice has stopped, and has pushed for official monitoring of its border processes at the port – which were put in place following the ECHR judgement – to be stopped on the basis that the violations are no longer occurring.
Italian immigration lawyer Erminia Rizzi said these forced returns take place "frequently" and see asylum seekers, including minors, "prevented from accessing the territory, in violation of all the rules and with informal procedures".
Wenzel Michalski, director of Human Rights Watch Germany, raised the question of EU complicity, saying the findings showed how "Europe has allowed itself to tolerate such circumstances".
---
To keep up to date with Lighthouse investigations sign up for our monthly newsletter
The Impact
Our investigations don't end when we publish a story with media partners. Reaching big public audiences is an important step but these investigations have an after life which we both track and take part in. Our work can lead to swift results from court cases to resignations, it can also have a slow-burn impact from public campaigns to political debates or community actions. Where appropriate we want to be part of the conversations that investigative journalism contributes to and to make a difference on the topics we cover. Check back here in the coming months for an update on how this work is having an impact.