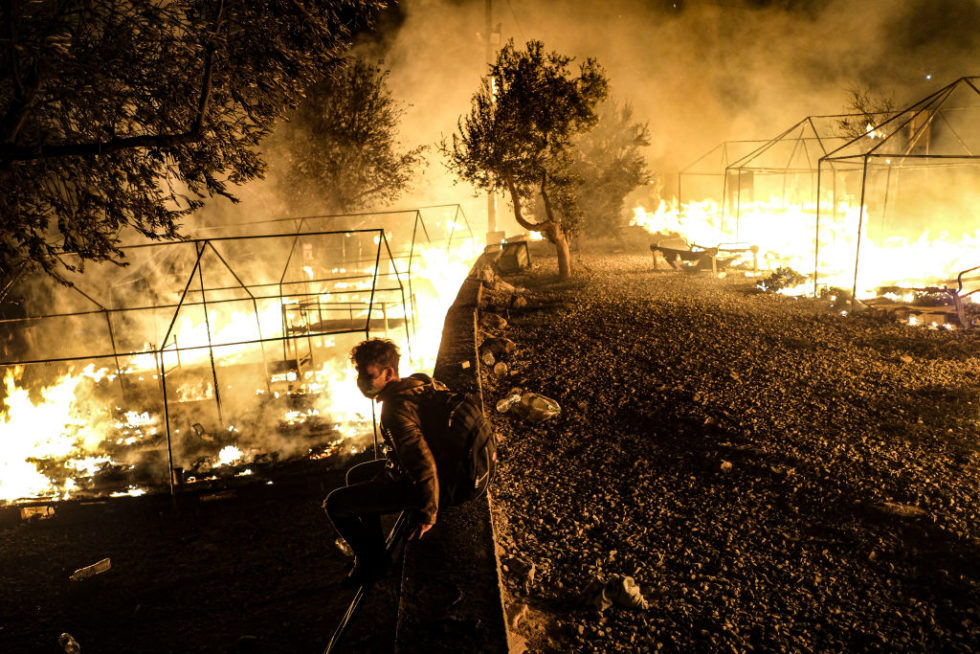 Year in the life of survivors of blaze that destroyed EU's largest refugee camp
Media interest in migration stories tends to focus on spectacle and that is what the fire at Moria on the Greek island of Lesbos provided. The blaze which destroyed the notorious camp left thousands of asylum seekers without any form of shelter. It also provided a moment of crisis to sharpen the focus on the appalling conditions that tens of thousands of refugees and migrants have encountered on arrival in Europe.
Moria had become a symbol of Europe's failure to accommodate many of the people who had come to the continent seeking protection. Much of the world's media visited Lesbos in the immediate wake of the fire and it was hailed as a watershed for migration policy in the European Union. Rights groups and sympathetic politicians called for more humane conditions and an end to the confinement of asylum seekers on a handful of Greece's eastern islands. But what happens to the people most directly affected when all of that attention moves on to the next spectacle?
METHOD
We wanted to capture the struggle that comes after the shock of a major event; the grind, the humiliations of the temporary camp, the strongly divergent outcomes for those involved. The only way to do this was to build trust with people affected and to return to them again and again over the ensuing months. This kind of storytelling lends itself to radio documentaries, where the voice of the people involved can cut through and speak more directly to audiences. The podcast format allows people to talk about their experiences in a way that conveys emotion and shades of light and dark.
Reporting conditions were complicated by mounting restrictions on access for journalists to the temporary successor camp, dubbed Moria 2.0. As well as in-person interviews, the stories that emerged came to us in audio diary messages over Whatsapp and voicemail.
STORYLINES
As the first anniversary of the Moria fire approached, the Taliban seized power in Afghanistan and European governments began to openly fret about increased flows of refugees. But many Afghans have already sought refuge in the EU and found themselves confined to camps like Moria. The people we focused on, including Nazanin, Zabi, Jawed, Mahdi and Mustafa, had years that took them in drastically different directions. The fire led to prison for one of them, after a disturbing trial with little due process; it led eventually to Germany for another after another after a frightening journey; and for some it meant trading one form of camp for another. All of these experiences illustrate what awaits Afghans who are forcibly displaced and seek refuge in Europe.
---
To keep up to date with Lighthouse investigations sign up for our monthly newsletter
The Impact
Our investigations don't end when we publish a story with media partners. Reaching big public audiences is an important step but these investigations have an after life which we both track and take part in. Our work can lead to swift results from court cases to resignations, it can also have a slow-burn impact from public campaigns to political debates or community actions. Where appropriate we want to be part of the conversations that investigative journalism contributes to and to make a difference on the topics we cover. Check back here in the coming months for an update on how this work is having an impact.