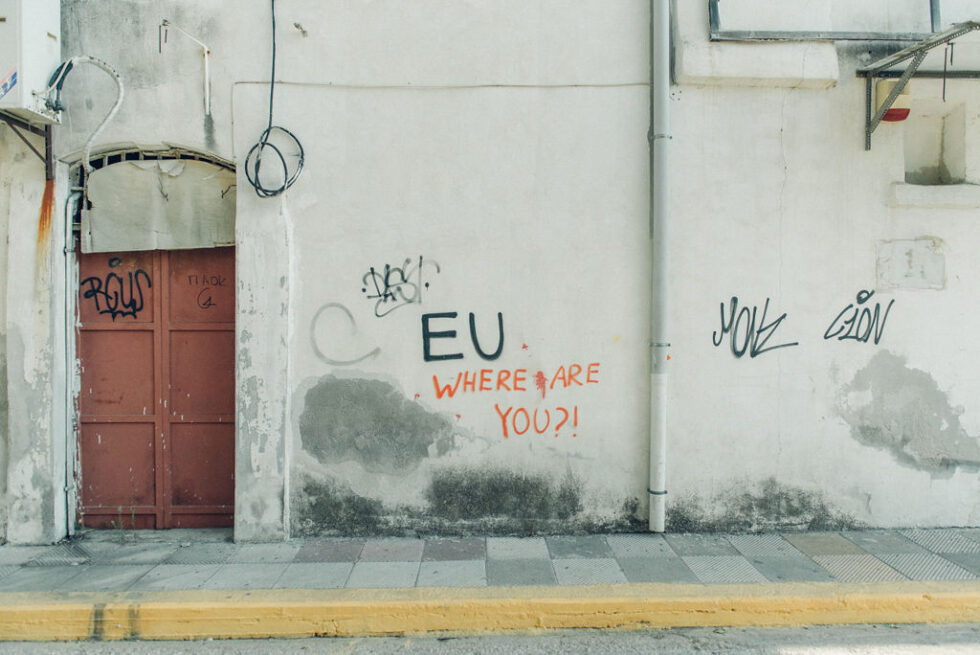 Greek coast guard intercepts asylum seekers, abandons them on life rafts
For years, migrants attempting the short but perilous journey from the Turkish coastline to the Aegean islands have frequently encountered Greek coast guard vessels using various methods to shunt them back towards Turkey, either by delaying rescue operations or by using their larger vessels to make waves and destabilize the often flimsy dinghies on which migrants travel. But in the spring of last year, Greece started employing even more aggressive, though clandestine, tactics. Members of the coast guard, their faces often concealed behind balaclavas, would board the dinghies, destroy their engines and sometimes beat asylum seekers on board. In some instances, dinghies were tied to coast guard vessels and towed back to Turkish waters.
Some of the migrants who managed to reach the islands and reported to the authorities to apply for asylum were detained before being pushed back on orange liferafts or abandoned on uninhabited rocky islets to be picked up by Turkey. Despite the overwhelming evidence, however, Greece still denies carrying out pushbacks.
METHODS
Lighthouse has received, collected and verified countless videos from migrants who secretly managed to film evidence of pushbacks carried out during Aegean crossings over the years. But the evidence in the videos was not always conclusive on the involvement of the Greek coast guard. That was the case until we received a video clearly showing a Greek coast guard vessel towing a dinghy full of migrants. The key challenge we faced in attempting to corroborate evidence of active Greek involvement was to verify that the video was taken in Greek territorial waters. Using geolocation techniques and location data supplied by migrants, our teams of reporters in Greece and Turkey were able to verify the stories related to us by would-be asylum seekers.
We presented our findings to human rights lawyers who concluded that such pushbacks constitute a form of torture during which migrants experience inhumane treatment and humiliation and as such could amount to a criminal offense.
STORYLINES
When a group of 26 migrants in a dinghy saw the Greek island of Samos getting closer in April of last year, they thought they had made it to Europe where they could finally claim asylum. Moments later, however, amid the racket of a helicopter whirring overheard, they sat in shock as a speedboat pulled up and masked men jumped into their dinghy before destroying the engine. One of the migrants on board managed to hide his phone and secretly document the pushback. His video, featured in a report by German broadcaster ARD, showed Greek coast guard officers putting the migrants into orange life rafts and towing them away from Samos, back to Turkish waters. In its report, Der Spiegel concluded that European humanitarian values are being sacrificed in the eastern Aegean, under the pretext of protecting the bloc's external borders.
Such cases of migrants being forcibly pushed back after arriving on Greek islands do not always go unnoticed, with local media often reporting the incidents in online news websites and on social media. However, they frequently come under pressure by Greek officials to remove such reports. An example is the case of Ioannis Stevis, a Greek journalist on Chios who refused to take down reports about pushbacks in his website, as documented in The Guardian, putting him at odds with the Greek government.
---
To keep up to date with Lighthouse investigations sign up for our monthly newsletter
The Impact
Our investigations don't end when we publish a story with media partners. Reaching big public audiences is an important step but these investigations have an after life which we both track and take part in. Our work can lead to swift results from court cases to resignations, it can also have a slow-burn impact from public campaigns to political debates or community actions. Where appropriate we want to be part of the conversations that investigative journalism contributes to and to make a difference on the topics we cover. Check back here in the coming months for an update on how this work is having an impact.