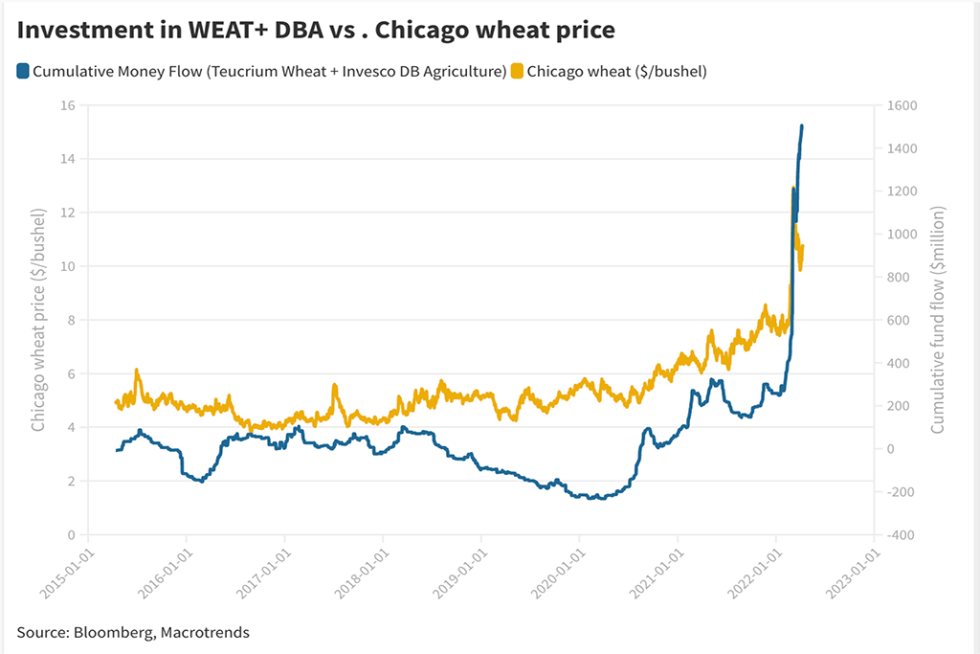 Financial speculators make a killing on food prices in regulatory failure
World food prices reached their highest levels ever in March. As millions more people face hunger across the world, speculators have flooded commodity markets in attempts to make a profit out of escalating prices.
Following Russia's invasion of Ukraine, international banks began profiling ways for retail investors to bet on rising food prices. On March 7th, as wheat hit its highest ever price, JP Morgan's wealth management team published an article encouraging clients to invest in agriculture funds.
In the first week of March, commodity-linked "exchange traded funds" (or ETFs, which are open for trading to the public) received $4.5 billion in investment. By April, two top agricultural ETFs had attracted net investor investment of $1.2 billion – compared to just $197 million for the whole of 2021.
As another food price crisis looms, with reports of the price of bread more than doubling in food insecure countries in Africa and the Middle East, we reveal how financial regulators bowed to powerful lobby groups by weakening curbs on excessive speculation that were proposed after the last crisis in 2008.
METHODS
We tracked money flows into some of the biggest publicly traded agricultural funds dealing in wheat, and analysed data on the levels of speculative investment in agricultural futures markets as speculators' share of the wheat markets sharply increased following Russia's invasion of Ukraine.
We spoke to experts, whistleblowers and industry veterans, who expressed concerns that current levels of speculation may be driving and exacerbating price increases. Experts also helped to identify how structural weaknesses have remained unaddressed since the 2007-2008 food crisis, and how attempts by regulators to curb excessive speculation since then have withered in the face of determined industry lobbying.
Finally, we used freedom of information laws to obtain documents showing how the International Swaps and Derivative Association (ISDA), whose members include the likes of Goldman Sachs, BNP Paribas, Blackrock and Citibank, successfully lobbied the EU regulator, the European Securities and Markets Authority (ESMA), to weaken position limits on speculative commodity trading position limits.
"Without stricter regulations, the commodity futures markets will just become more and more of a casino that allows speculators to earn massive profits from hunger and farmer livelihoods, which is a problem because food is a human right," food security expert Jennifer Clapp told us.
STORYLINES
Rising food prices are already having a detrimental impact across the globe, particularly in import-dependent countries. The World Bank has estimated that for each one percentage point increase in food prices, 10 million people are thrown into extreme poverty.
We spoke to aid workers and families in Lebanon and Egypt who spoke of the dire reality they face, as people's livelihoods have been upended by skyrocketing costs.
In Beirut, Ali Chamas, a father to four daughters, one of whom is sick and requiring treatment he is not able to afford, spoke of buying food from a small mini-market on loans: "We used to eat meat two to three times a week, now even one time it's difficult (…) We are broke on many levels." The latest Food Report by the International Panel of Experts on Sustainable Food Systems (IPES) recorded a 70% rise in bread prices in Lebanon alone.
The UN food aid agency, World Food Program (WFP), says it is already facing a 50% rise in costs for global operations. Knut Andersen, Head of Livelihoods and Food Security at the Norwegian Refugee Council told us, "We are collaborating with WFP for food distribution, and the amount of food that we get these days for the same amount of money is 30% to 50% less than it was a year ago."
Experts told us that regulators' failure to introduce strict rules on speculation in commodities markets is partly to blame for the current predicament. Former insiders at the regulator told us that- in addition to pressure from industry- the lack of scientific consensus on whether excessive speculation contributed to the 2007-2008 food price crisis had been a stumbling block for regulators.
Financial lobby group ISDA downplayed the contribution of excessive speculation on the rising cost of food today: "Commodity prices first and foremost reflect the crunch in supply caused by the crisis in Ukraine. Fundamental misperceptions exist about the connection between speculation, derivatives and volatility and price increases in commodities markets. In fact, derivatives are vital tools to enable firms to manage the risk associated with volatility in prices," a spokesperson said.
But researchers at the University of Bonn said there was a risk excessive speculation was contributing to soaring food prices currently. On the basis of their own analysis of current market data, they concluded in a recently published policy brief that "we cannot rule out the risk that excessive speculation already contributes to food price volatility and amplified spikes".
Dr Lukas Kornher, lead author of the Bonn paper, said that in deciding policy where livelihoods are at stake, the burden of proof should be reversed: the onus should be to "prove excessive speculation is not driving food prices rather than the other way around".
"It's indeed extremely frustrating and a real tragedy to see these same arguments that have been repeated for the last 15 years coming back again, with a new generation facing renewed food crisis," said Olivier De Schutter, UN Special Rapporteur on Extreme Poverty and Human Rights and co-chair of IPES-Food.
"Speculative activity by powerful institutional investors who are generally unconcerned with agricultural market fundamentals are indeed betting on hunger, and exacerbating it."
---
To keep up to date with Lighthouse investigations sign up for our monthly newsletter
The Impact
Our investigations don't end when we publish a story with media partners. Reaching big public audiences is an important step but these investigations have an after life which we both track and take part in. Our work can lead to swift results from court cases to resignations, it can also have a slow-burn impact from public campaigns to political debates or community actions. Where appropriate we want to be part of the conversations that investigative journalism contributes to and to make a difference on the topics we cover. Check back here in the coming months for an update on how this work is having an impact.