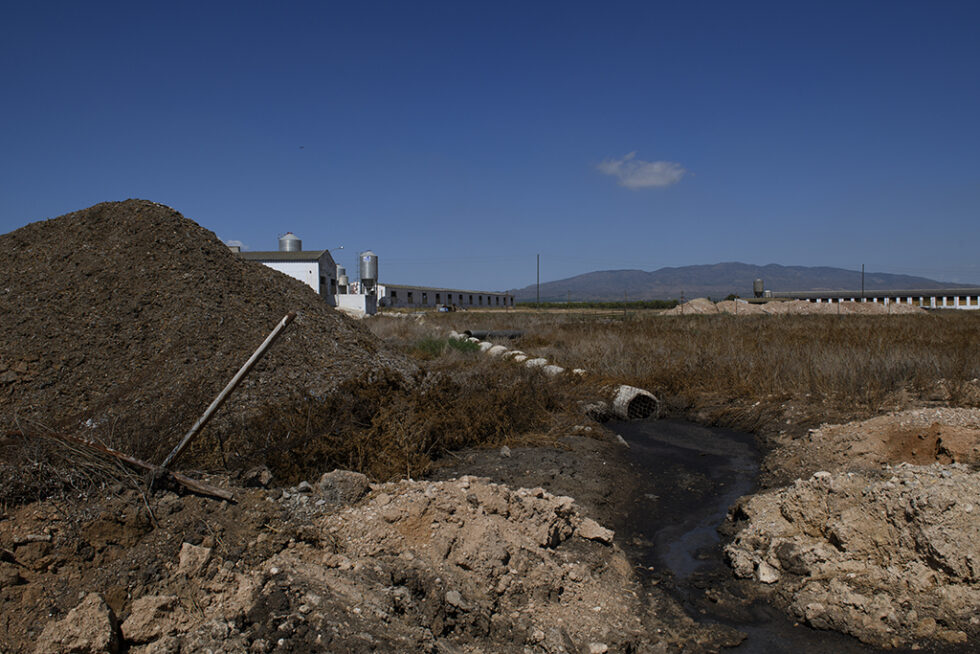 Spanish pork: out of control
Eco-disaster in EU's largest salt lagoon has culprit hiding in plain sight
This summer the iconic Mar Menor, or Little Sea, was choked by tons of dead fish for the second time in only three years. Fingers have been pointed in all directions apart from at the polluting industrial pig farms upstream on the rim of the lake basin.
Headlines and regional authorities focused on the nearest potential culprit, fertilizer run-off from adjacent arable farmland and implemented usage bans in response. But Murcia's increasing dependence on industrial hog farming escaped any serious scrutiny.
It is a worrying story that is being repeated across Spain as an industry that still presents itself as a pillar of traditional rural life has gone through a profound transformation, one that has been super-powered in recent years by demand for pigmeat in China. Meanwhile the true costs of this feted economic miracle are being felt in communities, in the natural environment and in climate emissions.
Spain now has the largest pig herd in the European Union, surpassing Germany, with some 56 million animals slaughtered in 2020 alone. Exports jumped 22% in 2020, bringing €7.6 billion into the country's coffers. Nearly half of that demand came from China. The impact via ammonia and nitrogen pollution is correspondingly massive. It is not just Mar Menor or Murcia. Vast swathes of Aragon, Catalonia and Castilla y León suffer serious nitrate pollution.
Intensive pork farming produces overwhelming quantities of slurry: about 2 cubic meters of this mix of faeces, urine, food waste, per pig per year, with a nitrogen concentration 40 times higher than that of wastewater. Unless this slurry is stored in weather-proofed and lined slurry ponds it can overflow or leach into the soil and make its way into groundwater.
The ecological collapse of Mar Menor is a shocking reminder of the public environmental risks – from nitrogen and ammonia-laden manure to methane emissions – being taken in the rush for private profits from agribusiness.
METHODS
There are approximately 500 complexes of slurry ponds in the Mar Menor catchment and the most effective way to survey them is using drones. We deployed a camera-mounted drone to tour a selection of these ponds and quickly discovered evidence of widespread pollution hiding in plain sight.
Documents obtained from freedom of information requests and interviews with officials then confirmed a trail of ignored warnings and inaction. We lodged a FOIA request with the Nature Protection Department of Spain's Guardia Civil and were told that only eight pig farms in the entire Mar Menor basin have been sanctioned for slurry violations in the last five years..
We obtained documents that had previously received little to no public attention and interviewed disillusioned officials and experts, including doctors and academics, who voiced concerns that were ignored. Many of them resigned from advisory positions in protest..
Among the findings is a report from Spain's environment ministry (MITECO), as recently as 2019, that claimed 90% of slurry ponds and manure storage facilities in the Mar Menor lake basin do not meet construction requirements.
STORYLINES
While workers and volunteers had just finished removing the 4.5 tons of dead fish in Mar Menor, the blame-game had already begun between national and regional administrations. A new episode of anoxia (lack of oxygen) which had caused thousands of dead fish to appear, as in 2019, decomposing on the beaches of this lagoon in Murcia.
Beyond the political responsibilities, it was mainly the effects of intensive agricultural fertilisers with high levels of nitrates and phosphorous were impacting Mar Menor. But they were not the sole cause and the large pig industry in Campo de Cartagena and its slurry deposits that allegedly do not comply with regulations also loom over the fate of the lake..
The regional government in Murcia was fully aware of this. They faced sanction from the European Commission in 2018 after repeated warnings about the impact of nitrate pollution on Mar Menor. And even a report by the regional government of Murcia itself in 2019 warned that the slurry ponds were out of control. Nonetheless new licenses have been issued, dozens more intensive farms have opened and the pig herd has further expanded.
---
To keep up to date with Lighthouse investigations sign up for our monthly newsletter
The Impact
Our investigations don't end when we publish a story with media partners. Reaching big public audiences is an important step but these investigations have an after life which we both track and take part in. Our work can lead to swift results from court cases to resignations, it can also have a slow-burn impact from public campaigns to political debates or community actions. Where appropriate we want to be part of the conversations that investigative journalism contributes to and to make a difference on the topics we cover. Check back here in the coming months for an update on how this work is having an impact.