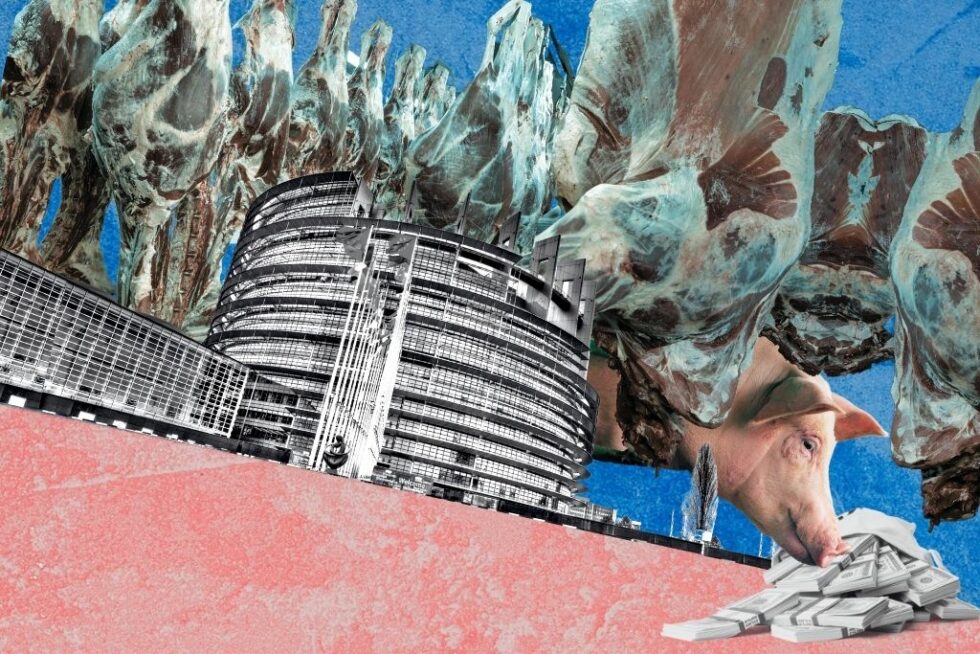 Big Meat Sabotages Reform
How the meat industrial complex exerts undue influence on EU policy
Ahead of an important vote on a new strategy for sustainable farming in the EU, we took a deep dive into the powerful pushback from the cluster of industrial interests that can be usefully understood as Big Meat. We found a powerful lobby prepared to abuse science, skew media coverage and pressure MEPs to protect the status quo.
There is a tension between meat consumption and public concern over the climate. It is increasingly clear that there is no way for the EU to meet its climate commitments without reducing the production and consumption of meat. This realisation is gaining traction with European publics and creating political support for regulation in support of this goal. However, real curbs on the meat industry are far from inevitable and its organised lobby or Big Meat, which is composed of interests from corporations and agrifood conglomerates to pharmaceutical businesses, with their allied think tanks and politicians, has a stubborn hold over EU policy.
Big Meat has been adept in casting itself as the defender of family farmers against overreach from environmentalists, animal welfare activists and others seeking reform and regulation. The intense lobbying in the build to a vote on the Farm to Fork strategy in Strasbourg in October 2021 gave rare insight into the objectives and tactics of this lobby as it worked to repel efforts aimed at changing the direction of farms policy.
Backers of the Farm to Fork (F2F) strategy say it will reduce chemical fertiliser use by a fifth and turn a quarter of EU farmland organic by 2030. They say it will reduce food waste and promote sustainable agricultural practices. Its critics, loudest among them Big Meat stalwart and Europe's largest farmers association, Copa Cogeca, say it will drive up prices, threaten food security and fail to meaningfully reduce climate emissions, while harming farmers' profits.
METHODS
We went back through a series of landmark votes from the scrapping of the milk quota to the battle over the doomed Transatlantic Trade and Investment Partnership (TTIP) — a proposed trade deal between the EU and US — and found a consistent divergence between the lobbying of Big Meat and the real interests of small to medium-scale farmers.
In the run-up to F2F, we uncovered how this lobby skewed the findings from scientific papers it paid for and spun them in ways that distorted the core message. A Kiel University study funded by the Grain Club shows that F2F would decrease production and raise prices. But when we spoke to study's author, Christian Henning, he was uncomfortable with the way his work was used and said that the strategy could multiply farmers' incomes and was an overall "net positive".
We spoke to scientists behind the major reports the lobby groups were spinning and confronted them with the way their work was used by Big Meat. We looked in detail at these papers, their assumptions and who paid for them. We gained access to confidential documents that revealed the scope and influence of the lobby, their tactics and true objectives and we went over their preferred amendments line by line, documenting their shopping list of priorities.
We spoke to a cross-section of family farmers across Europe, to figure out how politics in Brussels are received in the rural communities they are meant to serve. They highlighted two central aspects of the agricultural landscape with clarity: cheap food has been a boon for big industrial farms and sustainable farming is something many farmers support.
---
To keep up to date with Lighthouse investigations sign up for our monthly newsletter
The Impact
Our investigations don't end when we publish a story with media partners. Reaching big public audiences is an important step but these investigations have an after life which we both track and take part in. Our work can lead to swift results from court cases to resignations, it can also have a slow-burn impact from public campaigns to political debates or community actions. Where appropriate we want to be part of the conversations that investigative journalism contributes to and to make a difference on the topics we cover. Check back here in the coming months for an update on how this work is having an impact.