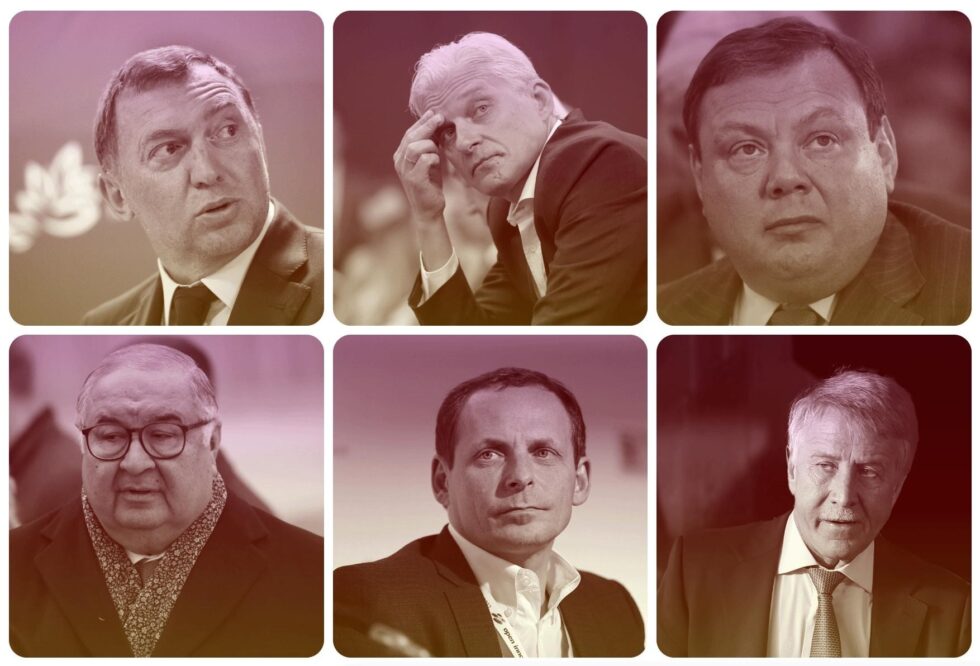 How the war in Ukraine and international sanctions upended the gilded world of Russia's oligarch class – as seen through the prism of their social media
Within days of the Russian invasion of Ukraine on 24 February last year, the European Union and the United States sanctioned the first round of Russian oligarchs and senior government officials. What started as a trickle of asset freezes and travel bans turned into a torrent during the weeks that followed, with the United Kingdom, Canada, Japan, New Zealand and Australia all following suit.
During these bewilderingly fast-paced early weeks of the war, Lighthouse Reports analysed the open social media profiles of Russia's wealthiest businessmen and their immediate adult family members. With a high proportion of these oligarchs' wives, sons and daughters flaunting their unimaginably lavish lifestyles on Instagram, we soon dubbed this project "The Instagarchs".
METHODS
The first step in this investigation was to define an oligarch (net worth more than US$ 1-billion), pinpoint the Russians to whom this applied (Forbes and Bloomberg rich lists), figure out who their immediate adult (18+) family members are (RUPep, a rich database of profiles on Russian and Ukrainian politically-exposed persons) and then to identify their social media profiles (Instagram, Facebook, TikTok, YouTube, Twitter, LinkedIn, Wikipedia, Telegram, as well as Russian sites VK and OK).
We used data journalism techniques to convert the social media profiles into spreadsheets, which we then interrogated for interesting insights – such as isolating posts from before and after the outbreak war, or historical posts in which the user had geotagged themselves, or how particular families' social media activity changed in relation to dates their oligarch fathers were sanctioned.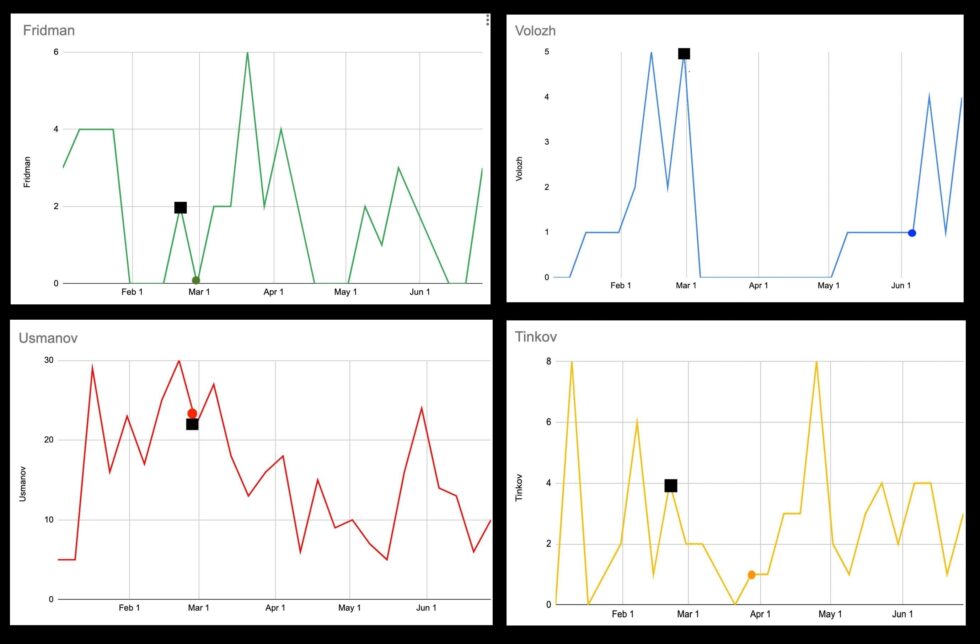 Meanwhile, a consortium of investigative journalists, led by the Organized Crime and Corruption Reporting Project (OCCRP), were trawling land records, corporate registries, and offshore leaks to build a database of assets belonging to key figures close to Vladimir Putin. We fed through any relevant leads from our social media deep dive, including a photo dating back 10 years that was published online as part of an investigation by Finnish public radio YLE into the true owners of a luxury yacht.
Using OSINT techniques, we also geolocated photos posted by an oligarch from his villa in Tuscany, Italy, which we then ran through the Italian property registry, with the assistance of the Investigative Reporting Project Italy (IRPI). This exercise revealed that he had transferred the property to his son within days of being sanctioned by the UK, and in possible anticipation of sanctions by the EU (which have not, in the event, materialised. This oligarch did not respond to requests for comment).
Finally we teamed up with Coda.Story, a U.S. publication which specialises in narrative and explanatory reporting, and publishes a weekly newsletter about oligarchy, to research the background histories of six sanctioned oligarchs whom we identified as representing the diversity of the Russian elite. This step involved reaching out to people who had met these oligarchs away from social media, in real life, and who could give us a sense of what they are like as individuals, and insights into how the war and sanctions have affected them personally.
STORYLINES
Lighthouse Reports and Coda.Story analysed 69 open Instagram accounts and other social media profiles of Russia's wealthiest families under sanctions, gleaning unique insights into their lives before and after the invasion.
The intimacy and efforts to display 'normality' that many of these accounts reveal in the months before the war tells us much about the oligarchs and their families: how they'd succeeded in assimilating into Western society, how unassailable they felt, and how blissfully ignorant they were about Putin's fatal next step. In hindsight, these and other social media posts by Russia's richest families represent the final throes of unashamed oligarchic public display.
But in the immediate aftermath of the invasion, social media posts by sanctioned Russian oligarchs and their immediate family members slowed to a trickle.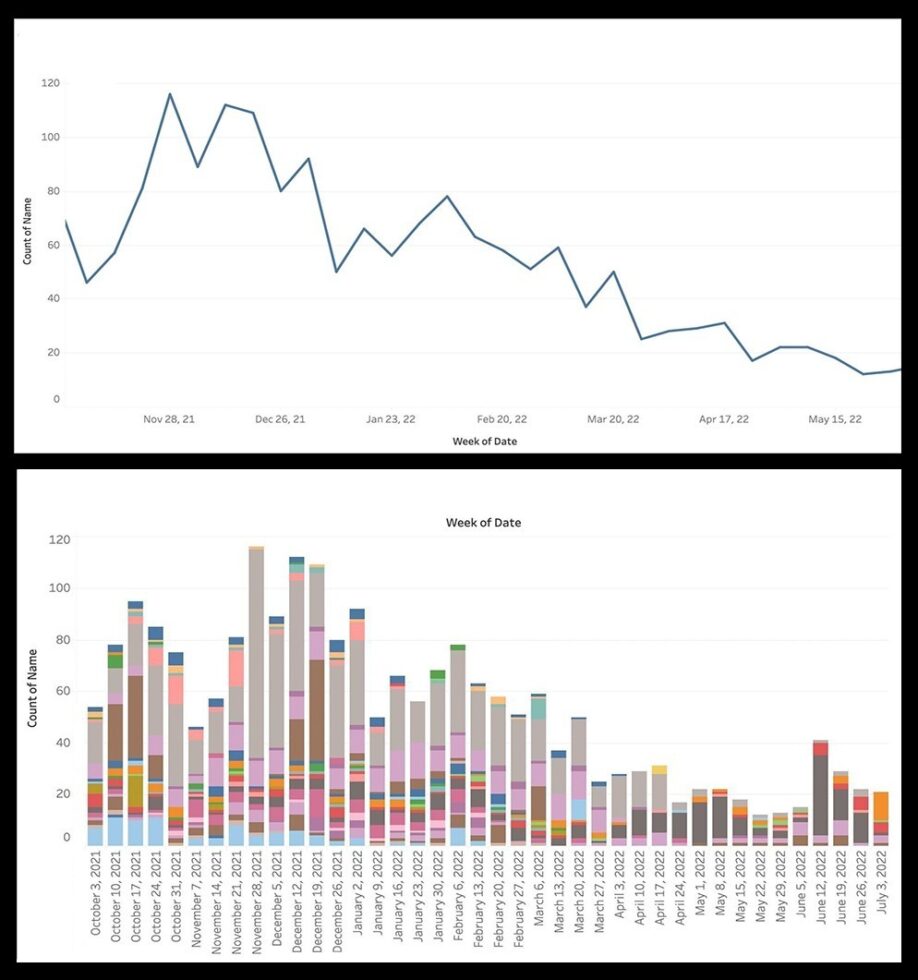 On the anniversary of the war last month, Russia's oligarch families continued to maintain a low profile. Only Oleg Tinkov – a maverick entrepreneur who has emerged as an outspoken critic of Putin and the war – fired off an Instagram post, musing whether "Putin [is] a reflection of its Russian folks or the other way around". This post was accompanied by a selfie of Tinkov skiing in Switzerland, where he is not subject to sanctions.
His unique outspokenness aside, Tinkov is in many ways emblematic of the Instagarchs in 2023: sanctioned in a patchwork of jurisdictions (in Tinkov's case, the UK), a few billion dollars worse off, but still able to access the best of what life in the open, democratic West has to offer.
We reached out to Tinkov, as we did to all six sanctioned oligarchs and their families, but he did not comment. The full range of comments received for this story can be read in the article published by Coda.Story.