Europe struggles to vaccinate its undocumented population, as toxic politics undermine public health goals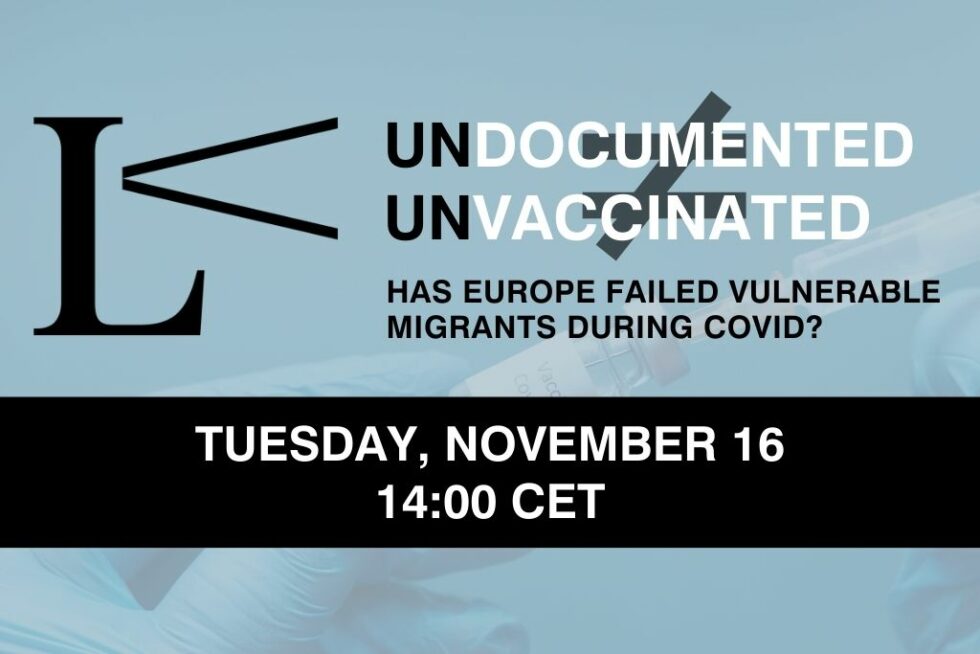 Portugal is leading Europe in its efforts to vaccinate undocumented migrants during the pandemic, while Germany and Denmark are among the continent's wealthier nations with serious shortcomings revealed in their public health campaigns during Covid.
Portugal and the UK were ranked "open and accessible" in a major investigation into COVID-19 vaccination drives among undocumented, carried out by nonprofit newsroom Lighthouse Reports. Vaccinating Europe's Undocumented: a Policy Scorecard ranks the Czech Republic and Poland as "closed and exclusionary" but also finds less expected failures in Germany which is placed among "confused countries" in the index.
The survey is built on months of research mapping all current vaccination campaigns across 18 countries and highlights persistent contradictions between public health imperatives and Europe's rancorous migration politics, in which governments often compete with each other on adopting tough deterrence measures.
"The pandemic has demonstrated the need to separate access to health care from Europe's toxic migration politics," said Lighthouse Reports' director Daniel Howden. "Denying access to vaccines for some means putting the public health at risk."
Undocumented migrants make up a significant if unverified section of Europe's population and experts observe that exclusionary migration policies have pushed an increasing number of people without regular migration status into the undocumented limbo. The EU has chosen not to count the undocumented since 2009, when the comprehensive Clandestino study called more restrictive policies into question.
"For undocumented people exclusion from health care is a longstanding reality," said Alyna Smith from PICUM the largest European association for undocumented rights that assisted in research for the scorecard. "Fortunately, we also have examples of approaches that can help us to chart the way forward – local and national efforts to address existing barriers and to work with communities to build trust. Now is the time for governments to adopt measures that will help us to manage the pandemic – and that move us towards more responsive and inclusive health systems in the long-term for everyone."
The scorecard from Lighthouse's data science and research team, the most in-depth study of its kind, involved detailed comparisons of national vaccine strategies and implementation plans, public policy and communications, as well as interviews with community groups in 16 languages, across nine countries. The results were substantiated against PICUM's research into where undocumented migrants are able to access the COVID-19 vaccine without immigration checks.
Germany landed among the "confused countries" on the scorecard thanks to the absence of any reference to undocumented people in official policies or statements, and their exclusion from official vaccination efforts. These gaps mean undocumented people can access vaccines only using workarounds. Experts we spoke to estimated that only a small percentage of people without status were getting vaccinated.
Portugal's "open and accessible" status is testament to a transformation in recent years into a poster country for more enlightened immigration policies with its government offering to host asylum seekers unwanted in other frontline EU states. Post-Brexit Britain, which generates frequent headlines for its hostile stance on migrants, appears to have placed public health over political implications as along with Portugal it is the only country to perform well in all categories of the Lighthouse survey.
Research for the scorecard also suggested a number of countries where national anti-migrant posturing conceals more practical and humane policy access to health care and vaccines at the local level. In the Czech Republic, one of the worst performers in the scorecard, evidence emerged of recent efforts by some regional authorities, such as for Prague, to include residents without legal status in their latest Covid vaccination drives."
People find themselves undocumented for myriad reasons from job losses tied to work permits to people who arrived in Europe as children and have been unable to regularise their status. The absence of documents proving a right to reside is not an offence under European law but being undocumented can restrict access to vital health services.
To see how your country performed and to look at full results and methodology please visit the scorecard. A landmark series of reported features across Europe begins today in Greece with an investigation into the plight of undocumented workers in Greece's leading poultry farms, who have been missed by vaccination campaigns, where Covid outbreaks have become a rolling crisis. In the coming weeks and months Lighthouse will be reporting on this critical topic in partnership with leading media including Publico (Portugal), El Pais (Spain), EfSyn (Greece), Der Spiegel (Germany), Knack (Belgium), Denik Referendum (Czechia), Domani (Italy) and Voxeurop.
---
Contact: francesca@lighthousereports.nl