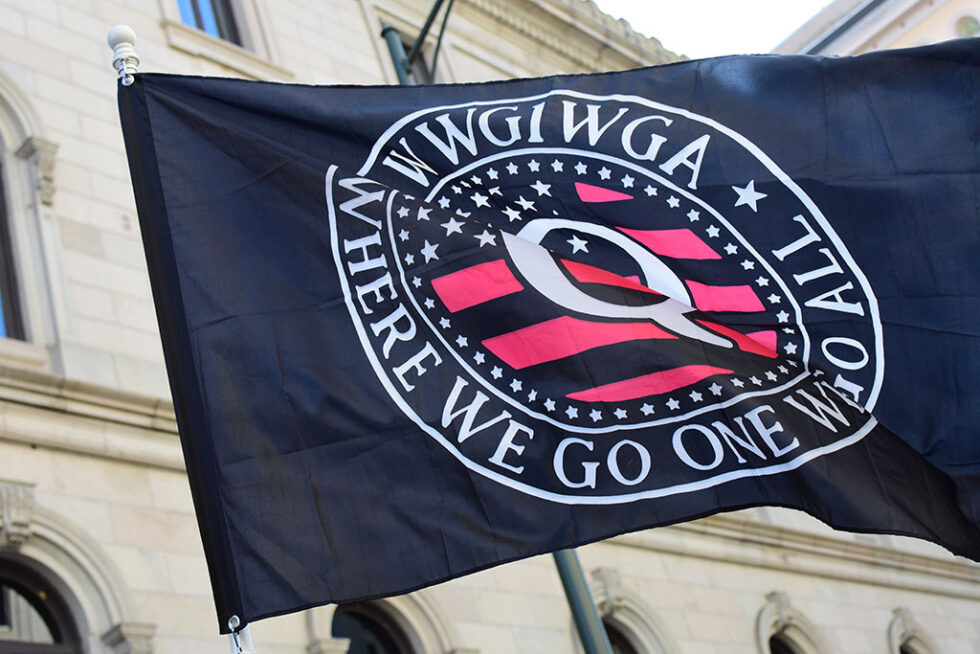 Lighthouse and Bellingcat in data-driven investigation into viral conspiracy
Supporters of the QAnon conspiracy theory believe the "Deep State" – a cult made up of Satan worshipping paedophiles – controls the world and that Donald Trump is fighting them. The wider public in Europe and the US became aware of the theory when many Q followers took part in the storming of Capitol Hill in January 2021, claiming the US election had been stolen.
Q-related theories and activities have also broken the surface into national news in Europe in incidents such as the mobbing of a UK opposition leader, the Freedom convoys and a plot to attack a vaccination centre in France, and anti-lockdown riots in the Netherlands and Italy. QAnon followers have also played a role in spreading anti-vaccination and pro-Putin disinformation across Europe.
Lighthouse Reports and Bellingcat spent a year working on the largest data-driven investigation into QAnon in Europe, setting up a database of channels and posts in order to reveal the dynamics of viral conspiracy theories and their mutation in different countries, focusing on who is sustaining QAnon and how this is happening in Europe.
METHODS
The database contains all the social media posts from platforms identified by a team of Lighthouse Reports and Bellingcat researchers as being associated with QAnon in a selection of European and North American countries: including Austria, Czechia, Denmark, France, Germany, Italy, the Netherlands, Slovakia, Spain, Switzerland, the United Kingdom, and the US.
Initially, our researchers analysed social media platforms, websites, influencers/influence networks, and events mentioned in the media related to QAnon to develop a map of the QAnon information ecosystems in their assigned countries. Once a channel was selected, its contents were scraped backwards to its date of creation—this means that the oldests posts can be several years old depending on when the channel was first created. In addition, the database contains around 1,200 channels which are frequently shared by the channels identified by our researchers. The channels in this "snowball sample" were selected randomly, weighted by the number of channels that reshared them, the number of times they were reshared and the number of countries in which they were reshared.
To navigate the immense volume of texts—as well as images and video that were scraped and archived—we built a dashboard that allows users to query posts based on keywords, date ranges, countries, and channels. Researchers could also take advantage of a channel-level analysis showing recent developments in follower numbers or easily access the channel's posts. For example, it would be possible to track down how a specific QAnon theory travels from one channel to another, or how a specific topic is perceived among different QAnon channels.
In addition, a network analysis tool generates an interactive network showing which channels are being reposted by the selected channel as well as channels which have reposted the selected channel, allowing researchers to see how communities from different countries interact with each other, outlining a transnational network of QAnon groups. Lighthouse's researchers spent months within these channels and groups trying to understand their dynamics and taking note of relevant figures in each country.
STORYLINES
In Germany, our partner Der Spiegel focused on a trend that investigators have come to call "conspiracy entrepreneurship". One of the German channels with the greatest reach and a high level of activity, according to Lighthouse Reports' analysis, belongs to Friedemann Mack. He sells T-shirts and caps with Q symbols and slogans of the conspiracy cult and regularly advertises alternative medicine remedies alongside pushing QAnon theories.
Reporters found that the Office for the Protection of the Constitution is now monitoring Mack. He is not the only one in the crossfire of German Authorities: another prominent figure in the German Q sphere, Oliver Janich, was arrested by investigators at the end of August in the Philippines. Janich is considered a risk to public safety for public incitement to commit crimes and is facing extradition to Germany.
In Italy, Il Manifesto reports with us on how the Italian QAnon ecosystem has taken a peculiar shape: a mostly self-referential universe, where some figures play a central role in the spread of theories and where QAnon narratives have reached other ecosystems thus mixing with other traditional conspiracy theories but also with anti-vaccine content.
Data analysis shows that in a sample of major Italian Q channels, the "alternative" narrative about Covid is a constant background noise with peaks that at certain times exceed interest in Q. This indicates the channels could be using Covid-related content to lure people into the Q conspiracy world.
We found that the Italian QAnon ecosystem relies heavily on content posted by a single channel. When it comes to topics about Qanon, elections or Covid, a website run by Cesare Sacchetti- a well-known conspiracy theorist- is in the top ten of the most reposted channels according to the analysis of a sample of major Italian Q channels, while it is by far the most shared on the subject of the war in Ukraine.
In France, Le Monde used our data-analysis to investigate how the "biolabs" conspiracy travelled from the US to Europe. This conspiracy alleges that Vladimir Putin attacked Ukraine to destroy US biological laboratories — the theory of the presence of biolabs has been fed for many years by various Russian propaganda outlets, and it has recently returned to prominence.
On February 24, when the Russian army attacked Ukraine, the biolabs conspiracy started appearing online again. Le Monde was able to follow the path of this theory: from obscure blogs and media websites to accounts on Gab – an alternative media platform used by American far right supporters and QAnon followers – that shared the theory in several groups, ranging from a dozen to more than 180,000 members, many of whom claim to be directly involved in the QAnon movement.
The theory crossed the Atlantic in the shape of an edited map that superimposed locations of Russian attacks and those of presumed biolabs and was widely shared in several Telegram channels in Europe including French, Italian, German and Dutch ones.
In the Netherlands, Trouw used our database to look at how a local fight around technocratic farm regulations on nitrogen emissions became a major international conspiracy theory. In June 2022, the Dutch government proposed a new plan to curtail farmers' nitrogen emissions. This happened as the Dutch QAnon community was striving to remain relevant despite the lifting of Covid-related restrictions.
Several Q-related channels picked up on the brewing anger over the government's proposal and quickly began to merge the nitrogen debate with a host of conspiracy theories ranging from the 'Great Reset' to an alleged plan to replace farmland with a new megacity spanning all of the Netherlands, the Ruhr area as well as parts of Belgium.
Data analysis shows that the conspiracy theory spread within days, driven by a small number of influential Dutch channels. This prompted US TV host Tucker Carlson to invite Dutch conspiracy theorist Eva Vlaardingerbroek onto his show. Our analysis shows that Carlson booked Vlaardingerbroek after the theory had gained prominence online and that there was no big spike in discussion following the event. This suggests that rather than driving the conversation, Carlson instead picked up on a topic which was already prominent within Q circles.
---
To keep up to date with Lighthouse investigations sign up for our monthly newsletter
The Impact
Our investigations don't end when we publish a story with media partners. Reaching big public audiences is an important step but these investigations have an after life which we both track and take part in. Our work can lead to swift results from court cases to resignations, it can also have a slow-burn impact from public campaigns to political debates or community actions. Where appropriate we want to be part of the conversations that investigative journalism contributes to and to make a difference on the topics we cover. Check back here in the coming months for an update on how this work is having an impact.